Ontology-lexica with lemon
John P. McCrae
Semantic Computing Group, Bielefeld University

Session 1 of "Language Resources and Linked Data" Tutorial
Problem
Ontologies have become popular.
Use several formalisms: RDFS, OWL, F-Logic, etc.
Ontologies do not have much linguistic information.

:Cat a owl:Class ;
  rdfs:label "cat"@en ;
  rdfs:label "Katze"@de .

What is the plural? Easy for English, not for German
Ontologies
Take a word:
"edema"
And it means something, so we put it in an ontology and give it an identifier (URI):
http://dbpedia.org/resource/Edema
http://de.dbpedia.org/resource/Odem
In fact it (already) has lots of identifiers linked on the web
mesh:D004487 icd10:R60.9 umls:C0013604
Ontologies
We can describe the entity with
Relationships to entities in other ontologies
Use reasoning to infer equivalence
All done with the "Web Ontology Language" (OWL)
Published by W3C in 2002; version 2 in 2008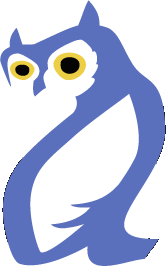 Ontology labels
Concepts may be identified by many words
"edema" "edemata" "dropsy"
These are all labels for the same ontology concept
No differentiation
Cannot say which are plural, which not
Inflection and Synonyms
We could introduce an element for each word:
SKOS-XL
Similar to SKOS-XL

eXtended Labels for the Simple Knowledge Organization System
W3C Recommendation since 2009

SKOS-XL does not allow multiple forms of the same label

No grouping of "edema" and "edemata"

"We [TopQuadrant] have yet to hear a use case that cannot be supported by SKOS alone" (Who need SKOS-XL? Maybe no-one. (Polikoff, 2013))
Forms
But such a distinction is only useful if we can say why:
"edema" (singular) "edemata" (plural)
Hence, forms are also nodes:

Senses
Sometimes we wish to say something about why a particular word is used
"edema" (modern) "dropsy" (antiquated)
Hence we introduce a sense to describe the usage of a word with a given meaning
The core of lemon
What is an (ontology-)lexicon?
A lexicon is a collection of lexical information
We do not need to define semantics within the lexicon
"An ontology-based semantic lexicon would leave the semantics to the ontology, focusing instead on providing domain-specific terms and object descriptions in the ontology." (Buitelaar, 2010)
Dictionaries as lexica
In fact, a lexicon represents much of the information already found in a dictionary
That is words, their forms and their meaning
Must be machine-readable
Take Wiktionary as an example
Wiktionary as a lexicon
Wiktionary as a lexicon
Wiktionary as a lexicon
Wiktionary as a lexicon
lemon's origins
Lexical Markup Framework (ISO 24613)

Standard for representing lexicons
XML

LexInfo, LIR

Represent lexical information relative to an ontology
OWL

SKOS (W3C Standard)

Designed for Taxonomy/Vocabulary representation
RDF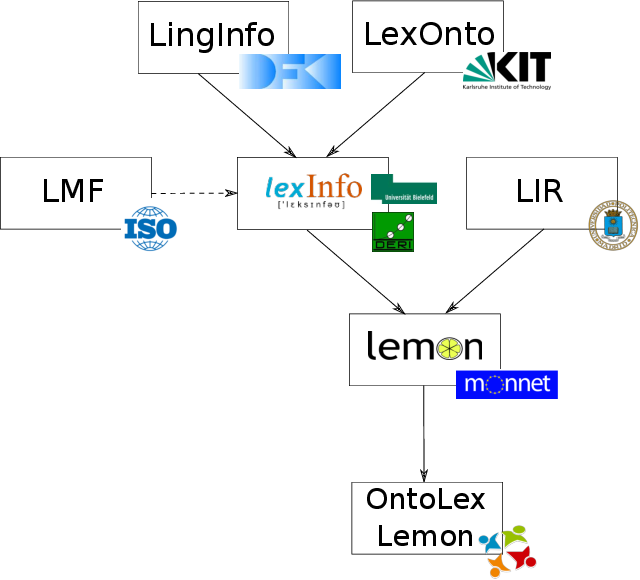 Design goals
RDF(S)
Conciseness
Not prescriptive

i.e., uses data categories

Semantics by reference
Extensible
Why lemon: RDF(S)
RDF models are labelled directed graphs

Allows for smarter representation

Each entry has a URI

Queriable on the web using standards
Clear responsibility for data

Linking possible between different lexica
Some induction possible (subproperties, classes etc.)
Why lemon: Conciseness
Small models (i.e., fewer links, fewer kB)
Easier to understand
"Open-world": Not necessary to state all facts
Why lemon:
Semantics by Reference
Meaning of a word given by reference
Reference (generally an ontology) capable of representing more complex semantic information
Disambiguation is performed relative to the ontology
No (traditional) word senses

No clashing of word senses in cross-lingual mappings
Why lemon:
Modular and extensible
RDF(S) extensibility allows representation of

Subtle differences
Unexpected data categories

Modularity

Different modules for different user requirements
New modules can be added later without affecting core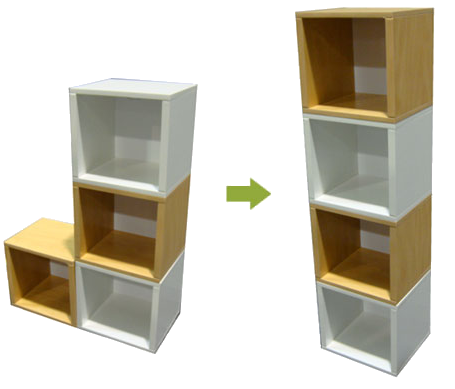 Modules
Why design patterns?
Simplify usage of lemon
Factorize common patterns
Cover 95% of entries
Expressable as simple language
The Design Patterns Language
Header consisting of prefix declarations
Any number of lexicons

With a URI
And a language

Any number of patterns
Example
@prefix example: <http://www.example.org/example#> .

Lexicon(<http://www.example.org/lexicon>, "en",
  ClassNoun("test", example:Test)
)
Noun Patterns
Name, a proper noun referring to an individual

Name("Microsoft", <http://www.microsoft.com/>)

Class Noun, a noun referring to a class in the ontology

ClassNoun("test", dbpedia:Test)
Noun Patterns
If there is no class we may refer to a particular property value

ObjectPropertyNoun("oenophile", ontology:loves, ontology:wine)

Relational Noun, a noun with a prepositional phrase referring to a property in the ontology

RelationalNoun("father", dbpedia:father, propObj = PossessiveAdjunct)
We use PossessiveAdjunct to allow "X is father of Y" and "X is Y's father"
Verb Patterns
State Verb, a verb indicating a single property in the ontology

StateVerb("know", foaf:knows)

Consequence Verb, a verb causing a property in the ontology

ConsequenceVerb("die", dbpedia:deathDate, propObj = PrepositionalObject("on"))

Event Verb, a verb describing an event with multiple roles
Verb Pattern Example
Adjective Patterns
Intersective Adjectives, an adjective referring to a class

IntersectiveAdjective("Belgian", ontology:Belgian)
IntersectiveObjectPropertyAdjective( "Belgian", dbpedia-owl:nationality, dbpedia:Belgium)

Relational Adjective, like relational nouns
Scalar Adjectives

ScalarAdjective("big", [ontology:size > 5.0 for ontology:Building])
Modifiers
Inflectional form, e.g.,

ClassNoun("Katze", onto:Cat) with plural "Katzen"

Gender (nouns-only)

ClassNoun("Katze", onto:Cat) feminine (with ...)

Register

StateVerb("knows", foaf:knows) neutralRegister
Arguments
Indicated with propSubj and/or propObj
Subject (subject of a verb only!)
CopulativeArg (subject for nouns and adjectives!)
DirectObject
IndirectObject
PrepositionalObject("for") (not normally used for "of"!)
PossessiveAdjunct
Multiword Expressions
Multiword terms can be specified using the following syntax

ClassNoun(["blood"/noun "vessel"/noun], dbpedia:BloodVessel)

This gives a decomposition of a term
Task:
In your language model the following DBpedia properties:
Person
Surname
GivenName
profession = Historian
Germany
nationality = Germany
stateOfOrigin
relative
predecessor
spouse
Solution
@prefix dbo: <http://dbpedia.org/ontology/> .
@prefix dbr: <http://dbpedia.org/resource/> .
@prefix dbp: <http://dbpedia.org/property/> .

Lexicon(<>, "en",
  ClassNoun("person", dbo:Person),
  ClassNoun("surname", dbo:Surname),
  ClassNoun(["given"/noun "name"/noun], dbo:GivenName),
  ObjectPropertyNoun("historian", dbp:profession, dbr:Historian),
  Name("Germany", dbr:Germany),
  IntersectiveObjectPropertyAdjective("German", dbp:nationality, dbr:Germany),
  StateVerb("come", dbp:stateOfOrigin, propObj = PrepositionalObject("from")) 
    with imperfect "came" with past participle "come",
  RelationalAdjective("related", dbp:relative, relationalArg = PrepositionalObject("to")),
  StateVerb("preceed",dbp:predecessor, propSubj = DirectObject, propObj = Subject),
  ConsequenceVerb("marry",dbp:spouse),
  RelationalNoun("husband",dbp:spouse,propObj = PossessiveAdjunct)
)
Summary
We introduced lemon

A model for adding lexical information to ontologies
A concise, modular, extensible model

lemon adds the following key elements

Lexical entries
Forms
Senses
Reference to ontology classes

Ontology-lexica build on existing lexicography (dictionaries, wordnets, etc.)
Summary
Design patterns for lemon simplify most common usage
Implemented as a standalone language
Can also handle

Morphosyntactic annotations
Argument mapping
Multiword expressions